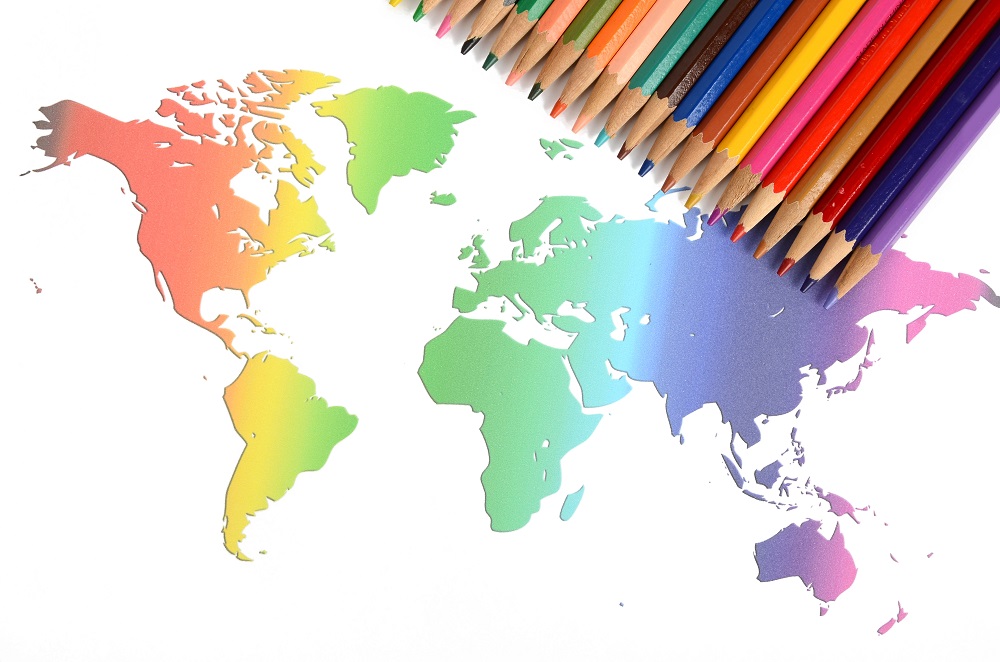 Thinking of hosting an art party or themed art projects that features art from around the world? If you are looking for specific projects from each country, then try out a few of the following projects that relate to the art and culture from the Americas, Africa, Europe, Asia, and Australia.
If you're looking for a simple multicultural activity, consider using ready-made puzzles featuring the images of various foreign countries that seniors, art students, or any group can easily fill in with crayons.
Art Projects for The Americas
United States
Provide your group with art projects that relate to Native American culture. For instance, use kits to make tepees and to paint totem poles. Another option is to use supplies that you already have on hand – like tape and cardstock – to create a fun project like a Navajo rug. For the rug, simply cover a piece of cardstock with strips of colorfully designed Washi tape, alternating the patterns. Lastly, glue pom-pom garlands (pom pon beads strung onto string) to the end of the two shortest sides to complete the rug.
For a totally different American art project, highlight the cattle ranching industry of the United States by inviting your group to make a cattle branding craft. For the activity, provide paper hides for groups to brand using crayons, watercolors, and branding patterns.
Brazil
Honor Brazilian artist Romero Britto, who uses vibrant colors to create fun, graffiti style pop art, by supplying everyone with crayons and folk art coloring pages that can be colored in vibrant, bold colors like Britto's artwork.
In addition, since Brazil is known for its vibrant carnival season, provide your group with carnival masks that can be decorated with paint, glitter, and feathers.
Guatemala
As an art project, mimic Guatemala's beautiful and colorful textiles by providing everyone with dresser scarves that they can paint in bright, bold colors. For a more interactive Guatemalan project, pay homage to Guatemala's seven active volcanoes by supplying the group with volcano-making kits to make and erupt volcanoes.
Mexico
Pay tribute to Mexico by making fun cultural art projects. For instance, show participants how to make their own piñatas by filling brown paper lunch bags with candy and attaching colorful strips of tissue paper to adorn the bags.
Invite the group to also make Mexican art projects like Mexican bark paintings, papel picado, and Ojo de Dio (eye of God) crafts.
African Art Projects
Northern Africa
For African-themed art, provide projects that relate to the art and culture of Northern Africa, like Egypt. For instance, since ancient Egyptians were the first to use the sundial, invite participants to make mosaic sundials. Additionally, introduce them to Egyptian hieroglyphics by providing them with ancient graphic posters that they can color with markers.
Eastern Africa
Highlight the abundance of safari wildlife in Eastern African countries like Kenya and Tanzania, by showing the group how to make safari sun catchers using glass stain that they can hang in their windows. A simpler craft option for beginners is a giraffe paint-by-number kit that your participants can easily paint.
Appeal to everyone's creativity by providing them with sculpting clay for them to make replicas of Tanzania's Mount Kilimanjaro. Other self-contained art kits for this African region include making tribal masks or painting African mask plaques.
Central and Southern Africa
Finally, spotlight the rainforests of the Congo in Central Africa by encouraging the group to color and sew rainforest mandalas. They can also recognize the large diamond production in South Africa by assisting everyone with making gemstone bracelets and necklaces using jewelry cording and glass beads.
European Art Projects
Greece
Pass out sculpting clay and encourage your group to make their own Greek-style art, like Greek statues or even a mini version of the Parthenon, an ancient temple in Greece featuring large columns. Since Greece is known for its pottery or "painted vases," provide the students with mini terra cotta pots for them to produce images on the outside of the pots with black markers or black paint.
Provide ceramic plates that they can decorate with paint to mimic the classic Greek plates that are usually smashed during a Greek celebration.
Spain
If music-playing is an option, play flamenco music in the background as you assist the group with decorating small paper fans. In addition, because Spain is known for its beautiful tiles called azulejos, invite participants to be creative as they make their own tile crafts.
France
With France known for its artistic influences from the great Impressionists, provide the group with pre-printed canvases for them to paint like the masters. Since France is seen as a fashion mecca, supply plastic headbands that they can color before wearing them for the day.
Asian Art Projects
Japan
Share the art of Japanese fashion with your group as you provide them with coloring pages of Japanese kimonos for them to color. Also, pay tribute to the Japanese cherry blossom trees by providing paper and brown watercolors for them to create their own cherry blossoms. For the trees, simply have them paint tree branches on paper before gluing on crumbled pieces of pink tissue paper to form a cherry blossom tree.
China
Teach the art of Chinese writing by using a Chinese writing kit to demonstrate the beautiful art form. Pass out Chinese character beads and jewelry cording for participants to string bracelets featuring the Chinese symbols for happiness, wealth, well-being, and longevity.
Russia
Because one of the most beloved animals in Russia is the bear, which locals refer to as Misha, encourage the group to decorate their own bears using a bear coloring kit. Also, recognize the popular Russian nesting dolls, called Matryoshka, by providing either nesting bowls that they can decorate or by supplying them with wooden dolls that they can paint.
India
Since animals are so important in Indian culture, plan a few art projects that involve these sacred beasts. For instance, provide everyone with bobblehead elephants for them to paint in bold colors that mimic the decorated elephants during India's Elephant Festival that occurs during the Holi festival.
In addition, pass out ceramic cow banks for participants to decorate, as well as tiger frames – honoring India's national animal, the Royal Bengal tiger – to paint with glass stain. Encourage them to paint their own peacocks, the national bird in India, by using unfinished wooden turkeys. For this project, simply use vibrantly colored paint to paint the wooden pieces before applying a few adhesive gems to mimic the eyespots in the peacock's tail.
As an alternative to animal art projects, invite everyone to participate in a live art show by making their own henna tattoos using a kit that uses henna powder and stencils.
The Philippines
Educate your group on how people in the Philippines increase the flow of energy (chi) by using wind chimes. Provide students with a wind chimes craft kit to decorate with paint. Also, since the Philippines is made up of over 7,000 islands surrounded by water and unique sea life, provide an art project that involves fish by showing how to paint and stuff giant tropical fish.
Australian Art Projects
Australia
With the Great Barrier Reef just beyond the shores of northern Australia, provide those participants that are art beginners with a coral reef craft that mimics the beautiful underwater environment found around "The Land Down Under." For your more advanced art participants, use coral reef baskets for them to weave.
New Zealand
Pay tribute to the Australasia country of New Zealand by providing the group with air-dry sculpting clay to make Maori symbols, honoring the Maori culture of the country. Once the symbols have dried, hang them on strings to create necklaces.
About notjustbingo.com
notjustbingo.com

is an online resource of fun, senior activity ideas for activity professionals of nursing homes and assisted living facilities. They have been providing fun activity ideas online since 2009, and we continue to assist activity professionals across the country by creating meaningful and engaging activity ideas for their residents that go "beyond bingo." Don't get them wrong – bingo is fun, but we want to spread the word that there is more to life than just bingo. Overall, notjustbingo.com feels privilege to help activity directors better the living experiences of their residents while demonstrating that a senior's quality of life can actually improve when they move to a nursing facility.